In this section...
Oldale Town
Route 103
Route 102
Pokémon Reviews

Wingull
Lotad
Seedot
Ralts
Oldale Town
Edit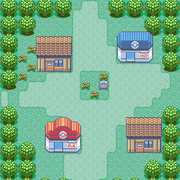 Oldale is a small town with not much to it, though you will encounter your first Pokémon Center and Poké Mart here. Once in Oldale Town, you can learn about Poké Marts from the man in an apron walking outside. After telling you about them, he gives you a Potion as a "promotional item". Heal at the Pokémon Center, and get ready to go on to Route 102...wait, there's this man studying foorprints over there, and he's blocking the way! In that case, go on to Route 103!
Route 103
Edit
Travel northward up Route 103. There is some tall grass with a few wild Pokémon. At the end of the route will be May/Brendan. Talking to him or her will initiate your first battle.
Pokémon Trainer Brendan/May
If you chose Treecko:
Torchic
Level 5

Blaze

Item: None
Scratch
Growl
--
--
Pokémon Trainer Brendan/May
If you chose Torchic
Mudkip
Level 5

Torrent

Item: None
Tackle
Growl
--
--
Pokémon Trainer Brendan/May
If you chose Mudkip
Treecko
Level 5

Overgrow

Item: None
Pound
Growl
--
--
Beating Pokémon Trainer Brendan/May


If you levelled up to 7 or 8 as I advised you before, then this battle will be an absolute pushover. Since your rival's Pokémon don't know any elemental moves yet, they will keep using a Normal-type attack. Keep using your offensive move as well. Growl, though, can be terribly annoying.

Remember, you have Potions at your disposal. Don't hesitate to use them!
May will tell you to go home. Follow her through Route 103, Oldale Town, and Route 101. Get to the Pokemon Lab, and Professor Birch will bestow the Pokedex upon you. He will explain its usage, and then you can set off. May will also give you five Poke Balls so you can catch Pokemon of your own. Oldale Town's Poke Mart will now carry Poke Balls.
You're free to go, but wait! One last thing. Whether you talk to her or she talks to you, your mom will give you the Running Shoes. Press and hold B Button to dash.
Route 103 Revisited
Edit
Now, you can go back to Route 103 to catch some wild Pokémon!
Pokémon
Levels
Encounter Rate

| | |
| --- | --- |
| | Zigzagoon |

2-4
30%

| | |
| --- | --- |
| | Poochyena |

2-4
30%

| | |
| --- | --- |
| | Wingull |

2-4
10%
Wingull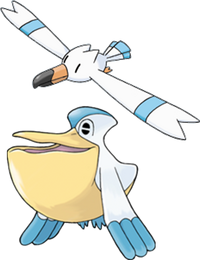 This seagull of sorts is one of the fastest Pokémon at this point in the game, except perhaps Treecko. It is very rare on land, but once you hit the high seas, you will run into swarms of them. Once it evolves, it drops all the Speed and exchanges it for Defense, and also gains some Special Attack.

Talking about moves, Wingull functuions decently, with Water Gun available from the time capture it, and Wing Attack at level 13. After evolving though, it ceases to learn good moves, with the exception of Hydro Pump at level 61... wait, what? Level 61?

Yes, 61. In between, you'll have to depend on TMs. Some choices are Aerial Ace, Surf, and Fly. Overall, it's an early game Pokémon, with decent stats, though it movepool hampers its usefulness.
. When you're done, head over to Route 102, which is no longer blocked.
Route 102
Edit
This is the first route in the game where you will encounter trainer battles and berries. If you walk in front of a trainer (or if you talk to one), an exclamation mark will appear above his head and he will challenge you to a battle that you cannot refuse. The positive side of this is that you gain more experience by defeating trainers than random encounters and you are rewarded money. The downside is that, should you lose, you will be returned to the most recent Poké Center you were at and you will lose some money. If desired, you can avoid some of them by walking behind or beside them - they only challenge you if they are directly looking at you.
The trainers on this region are low level, and may carry one or two Pokémon around level 5. They will mostly be Pokémon you fought previously, with the exception of two, the Taillow and the Shroomish.
During your travels you may encounter oddly shaped trees that contain berries. There are many different types of berries in the game that do different things. For example, on Route 102 you will find Oran berries and Pecha berries. The Oran berry will heal a Pokémon 10 HP and the Pecha berry will cure poison. The best part is that if you allow your Pokémon to hold the berry, it will be used automatically and you won't waste a turn using an item of your own. Remember, once you pick the berries you will have to plant a berry to make it grown into another full tree to get more.
As you traverse Route 102, fighting trainers along the way will allow you to pick up some money and experience. Also, keep an eye out for a potion in the grass just before Petalburg City.
Pokémon
Levels
Encounter Rate

| | |
| --- | --- |
| | Poochyena |

3-4
30%

| | |
| --- | --- |
| | Zigzagoon |

3-4
15%

| | |
| --- | --- |
| | Wurmple |

2-3
30%

| | |
| --- | --- |
| | Lotad |

3-4
20%

| | |
| --- | --- |
| | Seedot |

3
1%

| | |
| --- | --- |
| | Ralts |

4
4%
Lotad

Lotad is a Grass/Water type, a rare combination, that protects against some of its weaknesses. It also comes with Astonish, a Ghost-type move that can hit anyone except for Normal-type Pokémon, so don't bother trying to hit Zigzagoon with it. It has mediocre stats all across the board, but its final evolution, Ludicolo, makes a great special tank, with high Sp. Defense and HP.

Leech Seed is marvelous on Ludicolo, and the surprising Rain Dance set hurts a lot if you're unprepared. However, it has a lot of trouble taking on Pokémon that pack Substitute or status moves.

Recommended Movesets
Set 1
Rain Dance
Set 2
Staller

Leech Seed
Ice Beam
Rain Dance
Surf

Leech Seed
Hydro Pump
Toxic
Synthesis
Seedot

Seedot is a very rare Pokémon in Emerald, and one of the best Grass-types out there, except perhaps Sceptile and Breloom. It has excellent Special Attack and Attack, and its evolutions are Grass/dark, giving them immunity to the powerful Psychic type. It is a very versatile Pokémon, and it has several ways of boosting its offenses, enabling it to become a surprisingly huge threat. While it can't abuse the move Growth and its Chlorophyll ability as effectively without permanent sun, Swords Dance is an excellent boosting move for it. it isn't starved for coverage at all thanks to its great movepool. Due to its frailty and multitude of weaknesses, however, Shiftry isn't quite the kind of Pokemon one can thoughtlessly slap on a team and expect to sweep. It needs quite a bit of support, but do look out for Shiftry, as that crafty grin isn't all it has to its name.
Recommended Movesets
Set 1
Sweeper
Set 2
Swords Dance

Giga Drain
Brick Break
Aerial Ace
Extrasensory

Swords Dance
Shadow Ball
Brick Break
Fake Out
Ralts

This is a Pokémon to look out for. Its Sp. Attack and Sp. Defense are through the roof when it evolves into Gardevoir at level 30. It has an immense movepool, and this is the key to keeping it from being outclassed by other Psychics. However, it has severe Speed problems, so it will not often sweep teams unless it has a Salac Berry to back it up. Nonetheless, it can mess with common Psychic counters, such as Metagross and Snorlax, and is an excellent team supporter.

Gardevoir's support movepool includes Will-O-Wisp, Wish, Taunt, and Encore, and allows her to disrupt the enemy's team while aiding her own side. Offensively, Gardevoir has base 125 Special Attack, along with Psychic, Shadow Ball, Focus Blast, and Thunderbolt to deal massive damage to incoming foes. She also comes with the rare Trace ability, allowing her to copy an opponent's ability and turn the tables on them.

Gardevoir has a few problems to address, however. Due to Gardevoir being a balance of offense and defense, if you're looking for a Pokemon who specializes towards one specific role, Alakazam may be more suitable. As with Alakazam, Gardevoir has low Defense and HP stats, meaning that she is vulnerable to Pursuit-wielding physical attackers. Gardevoir's 80 base Speed is also rather average, allowing many other Pokemon to outspeed her. Nevertheless, Gardevoir's Trace ability, great movepool, and spectacular special stats all are advantages that make her unique.

Recommended Movesets
Set 1
Special Sweeper
Set 2
Trapper
Set 3
Weakness Counters

Calm Mind
Psychic
Thunderbolt
Ice Punch

Calm Mind
Hypnosis
Mean Look
Psychic

Fire Punch
Ice Punch
Thunderbolt
Psychic
Trainer
Pokémon

Youngster Calvin
80
Poochyena♂ Lv.5
No item

Bug Catcher Rick
64
Wurmple♂ Lv.4
No item
Wurmple♂ Lv.4
No item

Youngster Allen
48
Zigzagoon♂ Lv.4
No item
Taillow♂ Lv.3
No item

Lass Tiana
48
Zigzagoon♀ Lv.4
No item
Shroomish♂ Lv.4
No item
Head on to
Petalburg City
.