Suggested prerequisites
Edit
Train all your Pokémon around level 15. The highest level Pokémon in the Gym is level 15, so you need to be around that level or above it to comfortably finish this gym off. Especially if you started with Torchic, it is a good idea to evolve it into Combusken. However, that doesn't mean neglecting your other Pokémon.
Have 2 or 3 different Pokémon in your party. A Shroomish or Marill functions well in this gym, so consider catching one of them before you set off.
Stock up on Super Potions. You need to have a means of healing your Pokémon to gain an edge in battle. Be aware, though, Roxanne herself has two Potions she might use.
Save before and after entering the gym. The first, so that yu can reset if you lose; the second, so that you don't have to fight her again if the power suddenly goes off.
Gym Battle 1: Stone Badge
Edit
You can avoid the Trainers if you wish, but they're easy to defeat if you trained enough, and a few extra Exp. Points never hurt anyone. There teams mostly consist of Geodude.
Head over to the Gym Leader: Roxanne!
Gym Leader
Roxanne
Rustboro Gym
Reward: 1500

Geodude
Item: None
Tackle
Defense Curl
Rock Throw
Rock Tomb

Geodude
Item: None
Tackle
Defense Curl
Rock Throw
Rock Tomb

Nosepass

Level 15
Sturdy



Item:
Tackle
Block
Harden
Rock Tomb

Beating Roxanne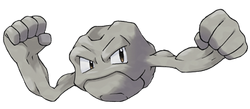 Roxanne's two indentical Geodude shouldn't pose a problem, unless you haven't heeded my advice mentioned before. Their ability, Rock Head, prevents recoil damage, but since they cannot use it anyway with their moveset, its worthless. They have Defense Curl to boost their already high Defense, Rock Tomb to lower your Speed, and Tackle and Rock Throw to attack you with. Be wary of them if you started with Treecko, as it will be torn to pieces by Rock Throw and Rock Tomb due to its weak Defense. Combusken's Double Kick will come in handy when fighting them.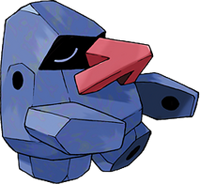 If you haven't levelled up to this gal's level, Nosepass can be a pain. With irritatingly high base 135 Defense (yeah, you got me right) Nosepass easily resists Fighting-type moves, so Grass- and Water-types are best against her. It possesses Harden to back up its exceedingly high Defense, but that can be easily countered by Shroomish, Treecko or Mudkip. It also has Block to prevent you from switching out, and Tackle and Rock Tomb to attack. Even more annoying is its ability Sturdy, which prevents it from getting knocked out in one hit. If that was not enough, it is also equipped with an Oran Berry to restore its health once it hits low HP. Add all that together, and it will become clear its going to survive for at least three turns.

Take out your starter to counter it. If it is knocked out in three hits, good; otherwise, keep hitting with your starter until it faints. Bring out your Shroomish and/or Marill next. That should be enough to knock it out. It is wise to equip your Pokémon with Oran Berries too.
After you win, you will be awarded the Stone Badge which will help promote growth in the Attack stat of your Pokémon and also allow you to use the Cut outside of battle. She will also give you TM39 (Rock Tomb), the annoying move her Pokémon kept using.
After receiving your Stone Badge and walking out of the Gym, you will see another Aqua Grunt, this time coming out of the Devon Corporation building. He will run off to Route 116, so use the nearby east exit to head there. The north exit leads to Route 115, but there is no use going there right now.