Route 103
Edit
Travel northward up Route 103. There is some tall grass with a few wild Pokémon. At the end of the route will be May/Brendan. Talking to him or her will initiate your first battle.
Pokémon Trainer Brendan/May
If you chose Treecko:
Torchic
Level 5

Blaze

Item: None
Scratch
Growl
--
--
Pokémon Trainer Brendan/May
If you chose Torchic
Mudkip
Level 5

Torrent

Item: None
Tackle
Growl
--
--
Pokémon Trainer Brendan/May
If you chose Mudkip
Treecko
Level 5

Overgrow

Item: None
Pound
Growl
--
--
Beating Pokémon Trainer Brendan/May


If you levelled up to 7 or 8 as I advised you before, then this battle will be an absolute pushover. Since your rival's Pokémon don't know any elemental moves yet, they will keep using a Normal-type attack. Keep using your offensive move as well. Growl, though, can be terribly annoying.

Remember, you have Potions at your disposal. Don't hesitate to use them!
May will tell you to go home. Follow her through Route 103, Oldale Town, and Route 101. Get to the Pokemon Lab, and Professor Birch will bestow the Pokedex upon you. He will explain its usage, and then you can set off. May will also give you five Poke Balls so you can catch Pokemon of your own. Oldale Town's Poke Mart will now carry Poke Balls.
You're free to go, but wait! One last thing. Whether you talk to her or she talks to you, your mom will give you the Running Shoes. Press and hold B Button to dash.
Route 103 Revisited
Edit
Now, you can go back to Route 103 to catch some wild Pokémon!
Pokémon
Levels
Encounter Rate

| | |
| --- | --- |
| | Zigzagoon |

2-4
30%

| | |
| --- | --- |
| | Poochyena |

2-4
30%

| | |
| --- | --- |
| | Wingull |

2-4
10%
Wingull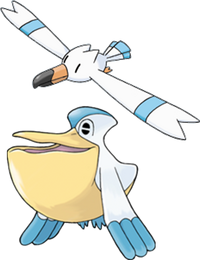 This seagull of sorts is one of the fastest Pokémon at this point in the game, except perhaps Treecko. It is very rare on land, but once you hit the high seas, you will run into swarms of them. Once it evolves, it drops all the Speed and exchanges it for Defense, and also gains some Special Attack.

Talking about moves, Wingull functuions decently, with Water Gun available from the time capture it, and Wing Attack at level 13. After evolving though, it ceases to learn good moves, with the exception of Hydro Pump at level 61... wait, what? Level 61?

Yes, 61. In between, you'll have to depend on TMs. Some choices are Aerial Ace, Surf, and Fly. Overall, it's an early game Pokémon, with decent stats, though it movepool hampers its usefulness.
. When you're done, head over to Route 102, which is no longer blocked.